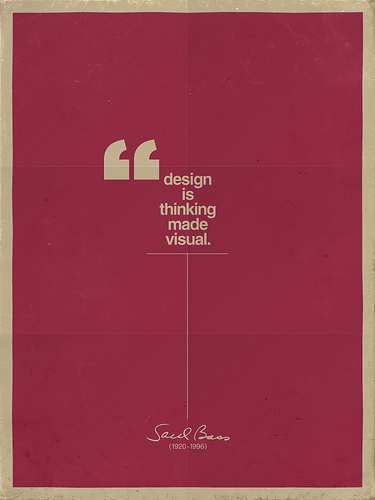 That's the dreaded Design question isn't it?
That was the question that was asked to me and my whole class by a graphic design thoery teacher while I was still a University Student.
Well, I didn't have (and really still haven't) got a bloody clue, but I had a stab nonetheless.
So just what is Graphic Design?
Well the answer that I mumbled out at the time was that it was everything and yet nothing at the same time.
This received a puzzled look and I was asked to explain myself. I used the example of an iPods button symbols (e.g. the play/pause button).
I said that the symbol did not need to be there for the button to work.
If you pressed the button once then it would play the music and a second press would pause the music. The symbol is completely obsolete for the buttons operation to work. However the symbol is useful for the person operating the iPod, so that they know what button to press. So for the iPod, the symbol is irrelevant but to the user, the symbol is almost essential.
Since then I've started to compile a list of all the things that I feel can make up graphic design:
Ideas.
Communication.
Visual.
Language.
Creativity.
Technology.
Wit.
A Job.
Life.
Projects.
Open.
A Lifestyle.
A Career.
Colour.
Perfection.
Luck.
Balls.
Honesty.
Bullshit.
Love.
Layout.
Marks.
Legibility.
Content.
Bold.
Form.
Fluidity.
Style.
Obsession.
Glaring.
Obvious.
Powerful.
Aesthetic.
Contribution.
Collaboration.
Subjective.
Brands.
People.
Execution.
Trends.
Tone.
Noticeable.
Discovery.
Experimental.
Reduction.
Contrast.
Arbitrary.
Forced.
Relationships.
Typography.
Shape.
Understood.
Longevity.
Valuable.
Thoughtful.
Accurate.
Concise.
Collected.
Developed.
Movement.
Hypocrisy.
Simple.
Elemental.
Superfluous.
Application.
Addition.
Subversive.
Concepts.
Ongoing.
Integral.
Material.
Complex.
Production.
Rational.
Emotional.
Seriality.
Miscommunication.
Joy.
24 Hour.
Debate.
Dead.
Connection.
Selling.
Whoring.
Useless.
Association.
Engineered.
Pioneering.
Myth.
Thoughts.
Practiced.
Perfect.
Narrative.
Personal.
Interactive.
Influential.
Fantastic.
Experience.
Corporate.
Capitalist.
Revolutionary.
Rebellious.
Small.
Contemporary.
Society.
Modern.
Strange.
Removed.
Foreign.
Overlooked.
Things.
Seen.
Reviewed.
Influence.
Bad.
Good.
Owned.
Formulaic.
Free.
Choice.
Manipulation.
Analysis.
Marketed.
Defining.
Solitary.
Furtive.
Hypocritical.
Definitive.
Effects.
Support.
Professional.
Void.
Valid.
Credited.
Potential.
Art.
Commercial.
Complicated.
Truth.
Social.
Fun.
Control.
Culture.
Virtue.
Necessity.
Function.
Fast.
A Word.
A Term.
A Classification.
Invisible.
Unnoticeable.
Nothing.
Anything.
Everything.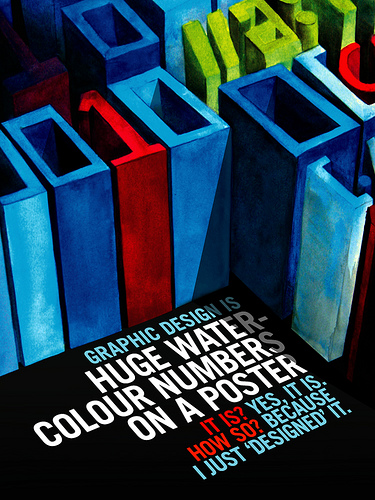 The two posters shown on this page were both part of a competition which asked the same question as this article. They can be found at Veerles blog
If you have anything you think that needs to be added to this list of what Graphic Design is, then please contact me and let me know as I'm always adding to it: