Last week I attended the Future of Web Apps (FOWA for short) in London for the first time. In fact it was actually only my second ever web conference, but if the quality of it is anything to go by, then it will certainly not be my last!

I arrived early as I was half dreading how bad registration for a large event would be. I needn't of worried however, as the Brewery (the venue for this years FOWA) obviously run a tight ship, and I had gathered my pass within less than two minutes and was making my way into an area where they were serving some much needed coffee and delightful danish pastries!
Now, satisfying as those patisseries were, I had not traveled over to London from Bristol just for them. I was eagerly awaiting the first talk of the day to begin, which was by Christian Heilmann from Mozilla.
His talk was entitled "get excited and build things", and it turned into the perfect opener for the start of the conference as it was full of passion and spread an obvious message to try and get other developers and designers to start pushing the boundaries of the web. A particular fact that stood out for me was that the Financial Times web app now has more users that it's native equivalent! Now considering the average reader of the financial times is probably a league away from most designers/devs in terms of technical knowledge, it's certainly a promising outlook!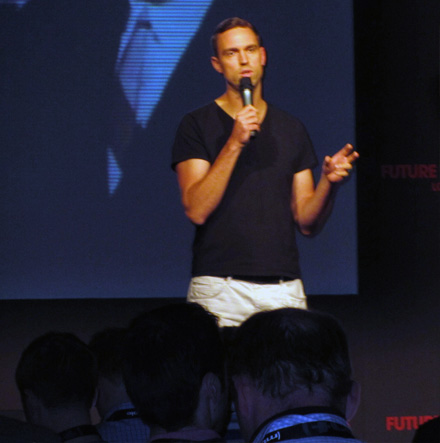 The most intriguing (and partly amusing) session on the first day of talks was "Browser Wars" – a panel session with speakers from all the major browsers (Microsoft, Opera, Google and Mozilla) who answers pre-tweeted questions from the audience. I mentioned the amusing factor as there was several points when I thought it was going to turn into an actual fight on stage with some notable frustration towards the Internet Explorer representative! It did provide some interesting snippets of information though, one of which was that despite Android being an OS developed by Google, it does not use Chrome to browse the internet!
On the second day a talk that really opened my eyes was about the art of viral marketing by Barbara Macdonald. She explained that if you want to create something that can really feel the benefits of viral marketing then it has to be a core element of the product, and not something that is simply tacked on! Merely adding a tweet or like button to the bottom of your website in the hope that it makes your product go viral is almost completely useless and irrelevant! Instead you need to focus on what is the part of your product that users are likely to want to share (e.g. people will share a video from youTube, not youTube itself).
Thinking about it, most of the websites that I work on have the popular social buttons (normally in the footer) and I'm now realising that they are next to useless as 99% of the time the website is not the element people will want to share!
It's time for a re-think of a lot of my design elements/methods, and while that is meant to summarise my thoughts from the last talk, it equally applies to almost all of the other talks I attended at FOWA!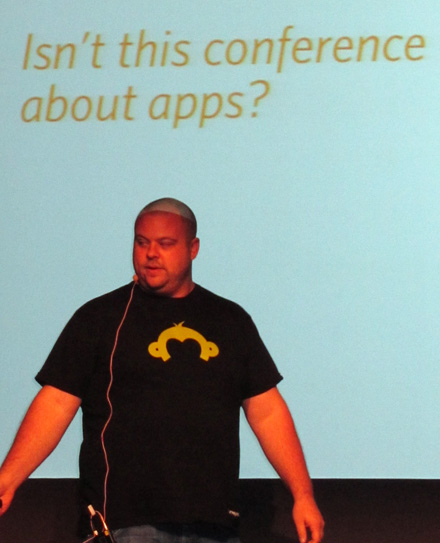 Finally, and possibly the best part of the two days was the very last talk by Chris Coyier from CSS-Tricks. Anyone who reads my design ramblings on this blog will most likely know that I'm a big fan of css-tricks, and Chris' talk on CSS Pseudo-elements didn't disappoint.
I also got to have a chat with Chris and a few of the other speakers during the two days which was nice as there is always a few questions that you want to ask that aren't related to their talks.
Overall I really enjoyed FOWA London and hopefully will get to attend it again in the future!