Following on from my previous blog post, last Saturday I was waking up at 4.30am and putting on layers of cycling clothing while still bleary eyed and feeling a little bit ill from the insanely early time, after less than 4 hours sleep due to having been still setting up my bike at gone midnight.
At just gone 5am, me and two other mad guys were outside in the hotel car park setting off on a 5km ride to the Roubaix velodrome to catch a coach that would take us to the starting point for the 170km route in Busigny.
I vaguely remember questioning my sanity about why I was even attempting this during the coach journey and why I hadn't chosen the much shorter 70km route, but by then it was far too late to change and before I knew it I was off the coach and sitting on my bike with the starting line in front of me.
The first stretch of course was pretty easy, consisting of smooth roads with little or no hills to speak of, and I'd just started to think that it was going to be a lot easier than I'd been worrying about before we turned off onto the first section of cobbles. I'd never so much as touched cobbles on my road bike before then, but had read up on them in preparation. Despite that, I don't think anything could have quite prepared me for how hard riding over that first section of cobbles felt.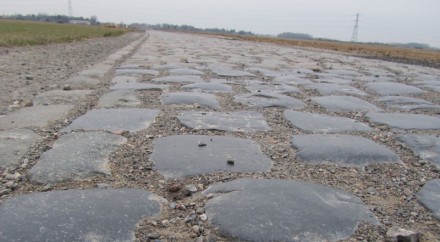 My pace had been fairly good up to that point and I was easily keeping up with the peloton I'd set off with, but on hitting those cobbles, my pace almost halved and by the time I'd made it to the next section of road, the rest of the riders I'd been with were well ahead of me.
It didn't help that my bike computer stopped working as soon as my bike hit the cobbles. I'd prepared for the bumps by using extra tape and even blu-tack to secure the transmitter on the wheel, but I'd obviously not done it well enough, so ended up cycling blind for about 30 minutes until I came to a stop where a lot of riders were taking a short break to recover and take on fluids. I fixed the computer and crossed my fingers that it would behave itself for the remainder of the ride, which luckily it did.
The next section of cobbles wasn't quite so bad, but I think that was partly due to me now knowing what to expect from them. The next few hours of cycling continued with more sections of road and cobbles and with the palms of my hands getting sore, but I'd started to feel like I was going to be able to make it round…. then came the Trouèe d'Arenberg (Trench of Arenberg) section. Trouèe d'Arenberg is the most famous section of Paris–Roubaix and for good reason! It's the true definition of cycling hell and riding that section of cobbles almost brought tears to my eyes. I was so relieved when I'd finally made it to the end that I had to stop to check that my legs were still attached at the knees and to take a drink. It was then that I made the mistake of looking at Strava and was dismayed to see that I wasn't even at the half-way point yet!
Continuing onwards, the remainder of the race largely consisted of me quite enjoying riding through the streets of France and seeing a surprising amount of supporters out cheering us on and then struggling over what felt like endless sections of cobbles, all the while praying that I wouldn't get a visit from the puncture fairy like so many other riders were!
One of the interesting things I noticed was the large number of British riders doing the event and I've since found out that the British had the most participants with around 400 entries, although there was also quite a few German riders who I cycled with during the event too.
Towards the end of the cobble stone sections, I kept seeing more and more camper vans with people stood outside cheering us on.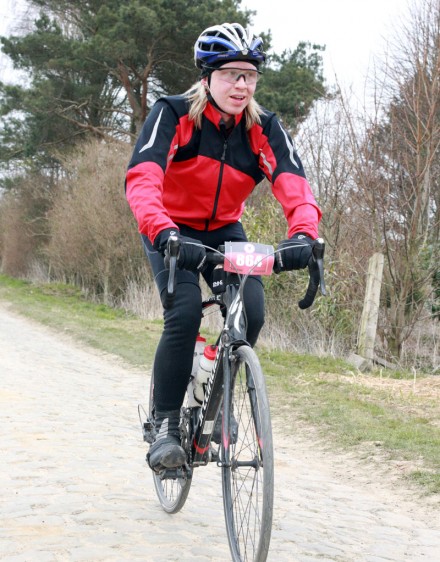 I'm not sure about the other riders, but I sure as hell needed that support as by the time I'd past the 80km mark, both my hands had blisters on, and I was having trouble gripping the bars during the cobble sections with my bike being thrown from one side to the other, and with lots of dust being thrown up in the dry conditions.
The last 750m are in the vélodrome in Roubaix and I can honestly say, I can't remember being happier to see a place in my life. I'd like to say there was some sort of dramatic sprint finish, but I was just so happy to cross that finish line that I didn't care where I was in the rankings.
It might sounds like I hated Paris Roubaix, but while that's true of the course, I'm actually really glad I did it as doing a really hard challenge makes you feel all the better once you finish it, plus it was great to see an old friend and make some news ones too. All the people I met during the trip were lovely and I now fully understand why Paris Roubaix is called the 'Hell of the North'. I'm proud to say I completed it, but I won't ever be doing it again, that's for sure!